Alan O'Donoghue reports from UL
Bandon were victorious in this afternoon's Senior Cup second round fixture against St Munchins College to qualify for the quarter finals in their first year of trying.
FT: Bandon 13-11 St Munchins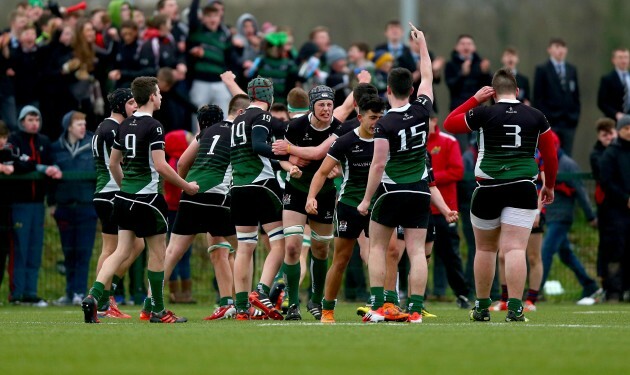 The match was physical, fiery and hard fought from the first blow of the whistle as Munchins showed heaps of promise with phase play in the Cork school's 22 for the opening stages. Bandon were hardly prepared to leak any tries however and solid defense looked to take the steam out of the locals until a penalty was finally awarded to them after ten minutes. Munchin's star man Jason Kiely gladly stepped up to put them 3-0 in due course.
From the restart though, Munchins lost their spark and the cup debutants piled on the defensive effort for them. Second row Colin Deane stood out for Bandon at this point, proving almost impossible to bring to deck at times and from influences like this, it enabled Luke Kingston to take a strike at the sticks to add three points.
Defenses from there shut out the respective attacks as from there although much of the matchup was spent in either red zone, it remained 3-3 by the break.
Bandon picked up from where they left off after the respective team talks and Kingston struck another penalty to make it 6-3 after some impressive work from Gavin Coombes. In typical fashion of the game so far though, the lead never lasted for long and when a run from Charlie Carmody brought Munchins to the Bandon 22, Jason Kiely again kicked over the bar.
With then just ten minutes from time, the responsibility and importance of the match seemed to take it's toll as Luke Kingston and Jason Kiely were both off target with their next attempts. The killer blow was landed soon after though as the impressive second row Deane crashed over for the green and black hoops put them 13-6 ahead with five minutes left on the clock. A converted try would now not even be enough for Munchins as the first try scorer of a drawn game progresses in Munster schools.
Such a scenario did indeed come to the fore as Munchins were left with a glimmer of hope when another second row, this time Shane Kelly, punched over the line with just a minute remaining after some constant pounding at the opponent's line – being held up no less than three times in the process. As the scores them stood at 13-11, Munchins and Kiely opted to quickly drop kick the ball away at the conversion to salvage time for a match winning score.
Crucially, Munchins would then win a penalty from the kickoff. With the wind blowing fiercely against them though, captain Adam Moloney and co decided that it was best to retain possession in search of a better field position by opting for a scrum, an area that they had dominated throughout. Unfortunately, in that final play an error from the Limerick lads meant that Bandon had bagged a deserved victory in UL.
FT: Bandon 13-11 Munchins
#MunsterHakaMOTM Colin Deane