Denis Hayes reports from UL
---
Glenstal showed off their skills to overcome St Clements with relative ease earlier today in UL.
Glenstal got off to the best possible start within the first 10 minutes when fullback Jack O'Mahony ran in under the posts following an attacking scrum in Clements 22.  Out-half Aran Egan made it 7-0 as the country Limerick side made their ambitions clear from the off.
Soon after, both teams showed good attacking threat. However, it was Glenstal's winger Ronan Quinn who made the first telling contribution with a terrific run from his own half. His teammates in the pack swiftly took over and another try was eventually scored, this time through second row Conan O'Sullivan after a great offload by Luke Fitzgerald.
Clements tightened the gap to 9 towards the end of the half when out-half John Bateman converted a penalty and they immediately came at Glenstal again from the restart with Aran Hehir making a break. A statement was being made by Clements at this point as they ventured into Glenstal's red zone. However, their failure to come away without anything to show for their endeavour here, cost them dear.
In fact, it would Glenstal who got the final score of the half in a swing of events as a great run from the impressive Mark Fleming saw him into Clements 22. Glenstal mauled it from there, and got over after some fine forwards work, with hooker George Downing the scorer. Half time: Glenstal Abbey 17-3 St. Clements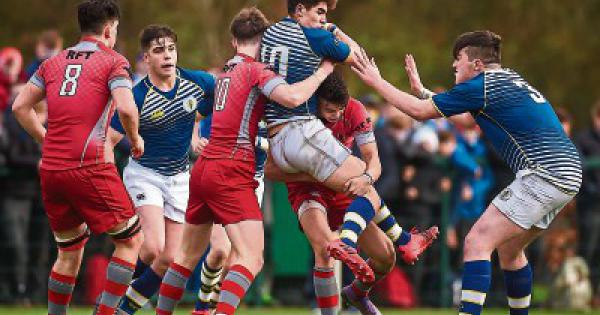 The second half kicked off and Glenstal had a chance to widen the gap to 17 points after a Clement's infringement, only for Aran Egan's penalty to strike the post.
From there, Clements had the better of the chances and were slowly building confidence only for Luke Fitzgerald to cruelly intercept an ambitious pass and run the length of the field. Any possible comeback was put to bed.
To their credit, Clements did get a consolation try from captain Aran Hehir which was well converted by out-half John Bateman, but it proved to be too little, too late.
FT: Glenstal Abbey 27-10 St. Clements
Munster Haka MOTM: Mark Fleming