Dirk-Jan Bakker reports from Irish Independent Park 
---
Heavy favourites PBC narrowly overcame a strong Bandon Grammar Side in the closing minutes of there semi-final fixture today at Irish Independent Park.
Bandon opened the score just three minutes in after a clever set piece resulting in a penalty being awarded. Kicked over by BGS fullback Sean Hudson which nudged Bandon into an early lead.
Pres defence continued to hold strong against a heavy Bandon pack. Both teams had chances to add points including a long range penalty taken by Pres fly-half Peter Sylvester but it wasn't to be, as it struck off the left-hand up right. Poor weather conditions greatly affected play for both sides. With the first half ending 3-0 to Bandon Grammar.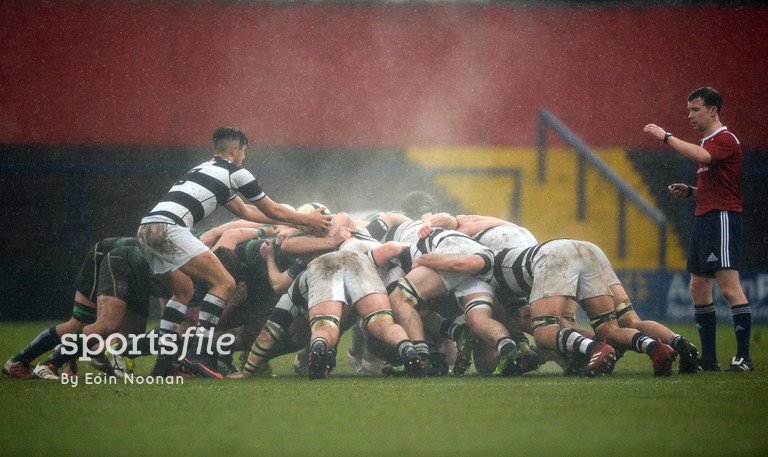 The second half saw another stalemate between the sides. Though there was a break in play for two head injuries first of which Bandon fullback Sean Hudson and to fellow teammate Ethan Greene in quick succession. Although the second looking a lot more serious with Greene being stretchered off.
As play was continued it was evident that there was a great dent in the Bandon sides moral after losing two key players. After which Pres gained dominance resulting in centre Sean French chipping the ball over the Bandon defence which he collected and crossed the whitewash to make the score 5-3 to Pres although they failed to add the extras. The city side looked dangerous once again as a chip by Pres left Bandon with no other option but to touch down on there own try line resulting in a drop out.
Bandon Grammar were handed a lifeline in the closing minutes with a penalty kicked by Bandon's Evan Palmer but with the strong winds the ball was carried wide.
In the final minutes of the second half PBC put the score beyond doubt with a try carried over the line by there captain Jack O'Sullivan as he ploughed through multiple Bandon defenders. With Sean French adding the extras closing the score at 12-3 and putting PBC into the St Patrick's day final in Thomond Park.
PSA Academies MOTM: Sean French