Ronan Calvert reports from Thomond Park
With two defeats on the bounce for Munster leading into this huge fixture against provincial rivals Leinster, Johann Van Graan's men in red were determined to not make it a third consecutive loss and instead finish a roller-coaster 2018 on the ultimate high note.
Nobody could underestimate the challenge that current PRO14 holders Leinster were about to present, but in a capacity Thomond Park that something special was in the air – something that gives the home-side a chance when everybody else has written them off.
Both sides fully loaded, terraces full, stands full. An epic awaited.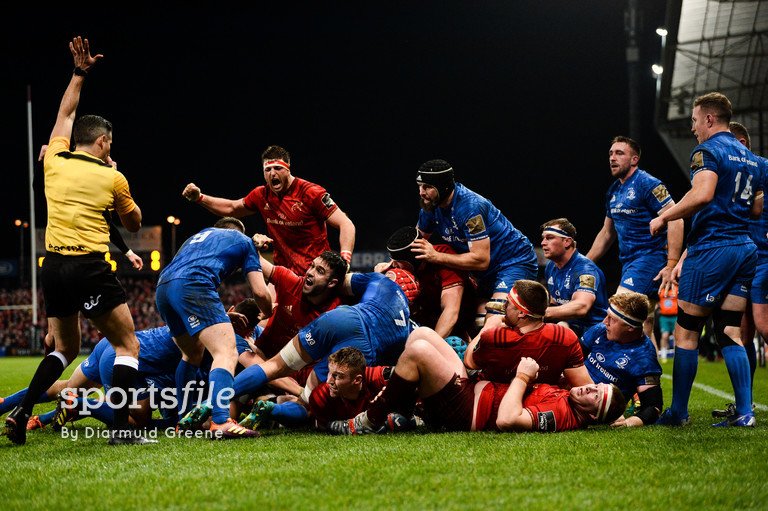 Leinster were first on the ascendancy, some neat delayed passes from World Rugby Player Of The Year Johnny Sexton sending the boys in blue motoring down-field and into Munster's 22 where the two teams soon renewed their fierce rivalry.
Best player on earth or not however, Munster youngster Fineen Wycherley showed no hesitation in sending Sexton an early message. A heavy tackle from Wycherley provoked a swinging arm from the 34 year old and after a few moments of handbags, the referee awarded Munster a penalty and the chance to clear their lines.
The youngest man on the pitch was not about to take a backward step. Any additional motivation his teammates may have required had swiftly arrived.
This was a game that was always going to sizzle before it exploded into life. Some hotly contested set-pieces followed as the two sides clashed in midfield where Leinster looked to be coming out on top. That was until the magic man Keith Earls showed his brilliance to blaze through the blue's defence and into their 22 where a high tackle on Chris Cloete eventually allowed Joey Carbery the chance to knock the ball into touch five metres out from the try-line for a terrific attacking opportunity.
Munster had Leinster right where they wanted them and with a powerful driving maul, Cloete bounced back from Rhys Ruddock's earlier challenge to get his hands on the ball at the tail of the drive and apply the finishing touch. The stadium rocked with its first eruption of the evening. The try was sweet, the conversion from former Leinster star Carbery made it even sweeter. 7-0.
The momentum had swung massively in Munster's favour as Van Graan's men found themselves on the right side of the scoreboard and soon on the right side of the ref. With a few dangerous tackles from the visitor's in the opening fifteen minutes becoming a problem, referee Frank Murphy's patience was wearing thin and when Cian Healy caught Conor Murray around the neck from the kick-off it was decided that the Belvedere man would spend ten minutes of his 200th cap in the sin-bin for foul play.
The scuffles between the two rivals were coming thick and fast in this intense interpro encounter and after the third clash of the first half, it was Leinster who were awarded the penalty. Sexton opted for touch, but when Munster put an illegal stop to the subsequent maul, he decided for the shot at goal come the second time of asking and made no mistake. 7-3.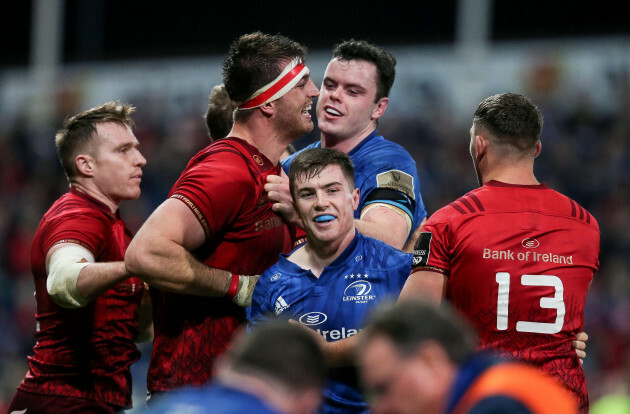 Munster were unaffected and picked straight back up from where they left off, pinning Leinster deep inside their own half. In a rare escape, Chris Cloete and then Tadhg Beirne proved real nuisances on the deck and after a brief spell of possession for Leo Cullen's men, they were unable to clear Beirne off the ball and Munster had the opportunity to kick for touch.
But not before an extended break in play. Chris Cloete had remained down after being knocked off of Leinster's ball. The South African number seven would need to be stretchered from the field of play and upon review, Tadhg Furlong was the guilty party. The British and Irish Lion made no attempt to wrap in his clear-out and made dangerous contact with Cloete's head, resulting in the two men leaving the field of play. Furlong was shown a yellow card for his actions, the crowd suggested it should have been red.
Leinster were playing on the edge to say the least and little more than a minute later, the Munster faithful had their wish. Andrew Conway rose high to claim a Leinster clearance kick before coming to a crashing fall as James Lowe took the 27 year old's feet from under him with little attempt to contest for the ball. If Munster supporters felt Tadhg Furlong's sin-binning was the fourth red card our opponents had avoided in just three weeks, there was not to be a fifth. After a short TMO review, Frank Murphy reached for his pocket and produced the red card to serve some justice before the half was out.
Before Furlong returned to the fray, Carbery added a further two penalties to give Munster an impressive 13-3 half time lead at the end of a fiery first forty. This was everything you could ask for in what is no ordinary fixture.
As Carbery kicked off for the second half, Munster's competitiveness showed no signs of fading as they won back possession immediately and resumed their surge. 43 minutes on the clock and Carbery was lining up his fourth kick of the game following a Leinster infringement in defence. A few seconds later and the scoreboard read 16-3.
This time Leinster replied and unlike Munster, as soon as they won a penalty in an attacking position, the ball was knocked into the corner. Maybe its the difference in confidence, maybe its sheer accuracy but the champions were not messing around and showed their ruthlessness to convert their one visit to Munster's 22 with a try as James Tracy found his way over to cut the scores to 16-10.
Munster again seemed to take the upper hand but a worry had crept in that Leinster looked the more likely to score in their brief spells with the ball than Munster had all evening. Larmour threatened a repeat of last year's solo try, Sexton made a half break and Tracy's earlier effort was another reminder of just how effective they can be in possession.
A few vital moments were to follow however. Munster rose highest to upset a Leinster attacking lineout, cleared for touch, Tracy threw crooked and then Stephen Archer won a crucial penalty from the resulting scrum. The Munster coaching ticket hoped their troops had resisted the blue's purple patch and when Carbery added another penalty on 64 minutes, the deal looked to be sealed. 19-10 with 15 minutes to go.
Ten minutes left to go and Leinster kept believing. Munster were forced to defend en-masse for numerous phases by their own try line. The likes of Wycherley, Scannell and Beirne grafted like animals right from the start and their defensive efforts on this occasion were nothing short of incredible. Leinster continued knocking on the door but with no inroads forthcoming up-front with the Munster pack it was time to throw it wide. Luke McGrath hit his outhalf Ciaran Frawley with the pass and as the youngster looked to fire the ball along, Keith Earls was on hand to give the Munster supporters the greatest Christmas present of all.
As Frawley flung his pass, Earls burst out of the defensive line where he was filling in at centre, burst onto the ball and darted from end to end untouched to send the ground into a state of frenzy. It was one of those brilliant derby moments that will be played over and over again and Carbery was on hand once more with the conversion to put the icing on the cake.
Leinster would snatch a late consolation through Max Deegan but the night was Munster's with a full-blooded, intense performance putting Johann Van Graan's men back on track with an excellent result at an all-important point in the season.
Outstanding.
FT: Munster 26-17 Leinster